MAKEUP TIPS FOR HIGHER AND DEFINED CHEEKBONES
CATEGORIES:
Other Brands
Many are the time we wonder how celebrities manage to have such perfect cheekbones and if we could ever have such perfection. In most cases, your battle is with getting the makeup correctly not knowing that things can be simple if we only pay attention to the type and amount of shades we apply. Makeup on the cheeks can help accentuate them and give you a more defined look.
Some women have high cheekbones that have a naturally defined look while others have to create the illusion of a high cheekbone using makeup. The market is awash with tons of different cosmetics that can help us achieve that desired look. However, such perfection may take a bit of work that most women expect, which is why we have come up with this step-by-step tutorial to help you get it right.
1. KNOW YOUR SKIN
Your skin type and tone are unique to just you hence the importance of understanding your skin type; it is the start of knowing what best suits your skin. If you know this, then you are in a better position to choose and use the right beauty products. For instance, a cream blush-on is an excellent choice if you have dry skin. It will help to moisturize your skin. Conversely, powder blush-on is what to use if you have oily skin.
2. ALWAYS MOISTURIZE
Always ensure your skin stays moisturized. Apply enough moisturizer before you do any makeup especially if you have dry skin. You do not want to have makeup on and still have a face that looks flaky. Moreover, you can a face and cheekbones that look glossy, and a generous amount of moisturizer will help in that regard.
3. APPLY A BRONZER
A bronzer is necessary and should go right underneath the cheekbones, but many of us never know the exact spot. For this, just suck in your cheeks to expose the hollows of the cheeks. Alternatively, you can use your fingers to find the cheekbone. After you find that spot, stroke the brush diagonally towards the ears at a 45-degree angle. Keep that angle in mind as you apply the bronzer and use one that is a shade darker than your skin tone. Using the brush, start by drawing a line below the brow bone beginning from the ear moving downwards to the inside of your face stopping where your cheekbone ends.
4. BLEND IT PROPERLY
Make sure that, when applying the bronzer, you blend it in properly. You can do this using your fingertips or brush and ensure there are no visible stripes or sharp lines. Avoid spreading the bronzer into the center (apple) of the cheeks. Also, feel free darken the shade if you find it too light, but adding another layer of the bronzer.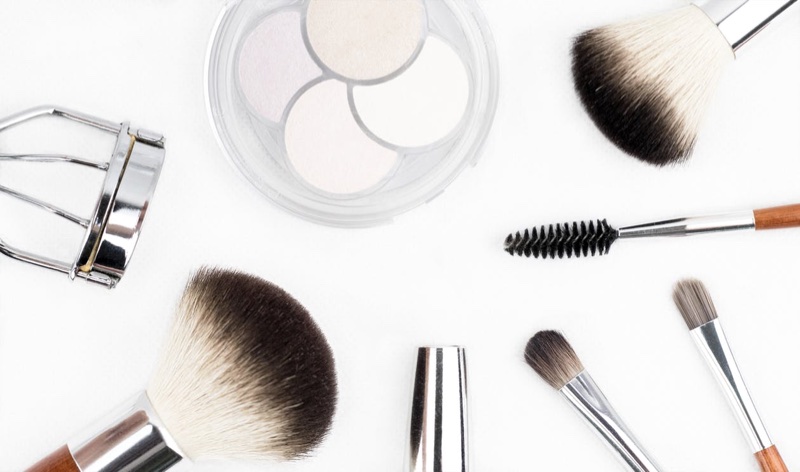 Photo: Pexels
5. CONTOUR YOUR FACE
When applying the bronzer, work it on the temples as you curve it down along the jawline to accentuate the bone structure and contour your face. If you want to go down another route – read on here – http://www.dore.sg/beautiful-cheeks-without-surgery/
6. APPLY BLUSH
Blush is essential to achieve perfectly defined cheekbones. It will help prevent your face from looking pale and yellow. But, the biggest challenge for most women when picking blush, is knowing the most suitable color shade. If you have fair skin, then go for something with a soft pink hue and a peach undertone. If you have an olive skin tone, then go for something with a bright shade and a blue undertone. For the women with a darker tone, pick more vivid colors such as hot pink. Stroke the brush in a sweeping motion when applying blush on the cheekbones.
7. APPLY THE CONCEALER
The concealer is important, and it should go below the contour. Apply it using a brush and ensure you blend it in properly. The aim of using the concealer is to define the cheekbones giving them a pronounced look.
8. APPLY THE HIGHLIGHTER
A highlighter will help to enhance the overall look. It should be slightly lighter than your skin. Therefore, a golden highlighter is the ideal choice is you have dark skin. Something with a light color is an excellent choice if you have a light skin tone. When applying the highlighter, sweep it lightly along the cheekbones using your brush giving more attention to the highest points of the cheeks. Make sure that you blend in the highlighter properly using a circular motion.
Take it easy with the highlighter, do not use too much or too light and to don't focus much of the motions towards the center of the face. Instead, sweep the highlighter gently towards the ears to give you well-defined cheekbones.
If you are using a liquid highlighter, put a few drops of the highlighter on a soft sponge and then dab the sponge on your skin. For a powder highlighter, use a small brush to apply it on your skin. Remember to apply the highlighter on the inner corners of the eyes and above the brow bone to light up your face.
9. FINAL ADJUSTMENT
Blend in the makeup properly so that you do not create sharp lines. If you use a liquid highlighter, apply a light layer of to achieve a translucent result. If you cannot blend in the makeup using your fingertips, then a soft brush will suffice. Use a circular motion as you blend in the makeup using the brush.
10. USE A SETTING SPRAY
We all want out makeup to stay on all day long. So, how can you achieve just that? Use a setting spray to help ensure that your makeup remains intact.
Hot Tip: Always ensure that you are in a setting with proper lighting when applying your makeup. It will help you achieve the right shading and highlight. Remember to use small amounts of bronzer layering it as you go; adding is the easier and better option that having to take it all off. Also, invest in long-lasting quality blushes that stay intact on your skin. Use cream blushes that match the color of your powder blush to avoid blotchiness.
Always remember that practice makes perfect. You may not get it right the first time, but keep trying and do this with a friend. Also, blend the makeup properly.
Categories

New Posts

Hot Posts

Tags