CATEGORIES:
Fashion
Lady Gaga looked absolutely amazing at the Victoria's Secret Fashion Show in Paris on Nov. 30th. Not only did she slay on the red carpet, her performance looks were even more amazing! We're obsessed with all 4 of Gaga's outfits and we can't decide which was our fave! What do you think?
Lady Gaga, 30, looked drop-dead-gorgeous when she arrived at the Victoria's Secret Fashion show at the Grand Palais in Paris on Nov. 30th. She first arrived on the red carpet wearing a drop-dead-gorgeous Azzedine Alaia gown. Lady Gaga opted to wear a gorgeous black lace sleeveless gown with a high-neck and ruffles on either side. The gown was skin-tight highlighting her amazing figure, as the skirt flowed out into a long lace train. Under the black lace was a nude underlay, and the best part were the sides of the dress which were completely cutout and plunging, showing off her tattoos and major side-boob! Aside from Lady Gaga's red carpet outfit, we have to talk about her fabulous performance looks. She never fails when it comes to dressing the part and going all out when she entertains. Her first look was a skin-tight black latex jumpsuit with a thick leather belt around her tiny waist. The entire one-piece was covered in sparkles and fringe, which she paired it with the most insane pair of shoes we've ever seen. She rocked black platform lace-up booties with sky-high pointy heels and a huge platform. She topped her look off with huge black and white feather wings. Her next look was a gorgeous two-piece brown lace ensemble, that looked similar to her red carpet dress. The lace crop top featured a high neck and she paired it with a high-waisted sheer lace maxi skirt that was completely see-through. She put her toned abs on full display in this two-piece and the entire back was cutout! As if that wasn't enough, Gaga also hit the stage in an incredible black and red lace YolanCris Fall/Winter 2016 Ready-To-Wear gown with red floral embroidery all over it. The sheer gown was skin tight and hugged her frame to perfection. We were so happy that Lady Gaga was one of the special musical performers at the iconic fashion show. Between Gaga, The Weeknd, and Bruno Mars, we can't even decide which performance was our favorite!
Lady Gaga, who performed at tonight's Victoria's Secret Fashion Show, is not one to be out-outfitted. Perhaps that's why she had the most outfit changes of all the participants of the show—including the models. Most models wore two looks on the runway, but Gaga wore three there, and two other entirely different looks off stage, for a grand total of five amazing costume changes. She then hit the pink carpet in an Alaïa lace dress:
On stage, Gaga wore a sequin jumpsuit with three variations. With sleeves:
Without sleeves:
And with a white leather jacket:
She also sang in a floral gown with her very own honorary Angel wings:
And ended it during the finale in her own Alaïa sheer lace crop top-pants set:
Lady Gaga's Victoria's Secret Fashion Show wardrobe was just as impressive as the models'. She wore five flashy looks, from classic VS lingerie to lace Alaïa numbers, but her most expensive ensemble was the one with her glittery black jumpsuit. You can blame the outfit's price on the hat alone—it cost one million dollars.
The custom headpiece—a black bejeweled iteration of her signature Joanne accessory—contains 45,700 Swarovski crystals that speckle the body of the hat and fall in 60 hand-beaded streamers.
Gladys Tamez Millinery collaborated with Swarovski to create the statement piece, which required a team of 10 craftspeople and took over 300 hours to make, according to WWD.
That wasn't Gaga's first time wearing something from the millinery, either. Last month, she wore a white wide-brim style by the label to the American Music Awards, which matched her streamlined Brandon Maxwell suit.
Darlings! It's the Victoria's Secret "Fashion" Show! The craziest collection of women in feathers you'll see all year! Or at least until the Miss Universe National Costumes!
This year, VS decided to go a more high-fashion route by firing all the models and just having international pop star and television actress Lady Gaga walk the runway over and over again until she dropped from exhaustion. Oh, and she had to sing the whole time too. Let's see how long it takes Steffi to burst into tears from all the pressure!
Lady Gaga in Yolan Cris

This is somewhat shockingly tasteful. Except for the feather wings, of course. Could it be that Steffi's going to use this occasion to wear tastefully standard gowns?
Lady Gaga in Saint Laurent

Of course not, darlings. There had to be some cray in there.
Those hat strings are both sad and silly at the same time.
Lady Gaga in Saint Laurent

Aren't you jealous you don't have a raggedy-ass wing moto?
Lady Gaga in Saint Laurent

We're back to tasteful. Or as tasteful as Steffi's gonna get tonight. A drag version of Sandy from Grease sounds just about right.
Lady Gaga in Azzedine Alaïa

Meh. Whatever charms this outfit may possess, they kind of evaporate once we say the words "lace crop top" out loud. You cannot combine those three words in that order and expect a tastefully chic look.
Lady Gaga in Azzedine Alaïa

On the other hand, we think we actually like this one. There's a little too much side boob action, but there's something a little elegant about it.
By the way, Steffi didn't really replace all the models. Believe us, we'll have PLENTY to say about their getups ASAP.
comnum(0) tbcount(0) tbcount(572)
CATEGORIES:
Fashion
After seeing the hue all over the runways, we declared all the way back in Junethat rusty browns were going be the biggest color trend of fall. Olivia Palermoand Dakota Johnson have already been spotted in it this season, and now it looks like the next style star is here to show her own support for the look. Emily Ratajkowski stepped out for a bit of shopping this week in what can only be described as a walking fall color palette (in the best way possible).
The model wore a camel-tone suede studded jacket from A.L.C. paired with flared pants in a slightly darker, almost reddish shade. Her Salvatore Ferragamo calf-hair bag and embroidered Alberta Ferretti mules, too, flaunted accents of similar muddy neutrals. As if her look weren't cool enough already, she broke one of the biggest fashion rules and made it look good by wearing a black crop top with a nearly all-brown outfit. Normally, we'd advise against mixing browns and blacks together, but the fact that she played with such luxe textures helped her pull it off with ease. After a combination this good, we can't wait to see who tries out the color trend next.
Scroll on to shop the look!
After shooting to fame with her nude dancing on Robin Thicke's Blurred Lines video, Emily Ratajkowski's career has grown leaps and bounds.
But on Friday, the 23-year-old reserved time for romance when she grabbed a cup of coffee with her boyfriend Jeff Magid.
The model-turned-actress and her bearded beau made for a hip couple as they strolled through the city.
Coffee date! Emily Ratajkowski indulged in a cup of coffee during a stroll with her boyfriend Jeff Magid in Los Angeles on Friday
Emily put her long legs front and centre when she slipped into a stylish striped jean jumper that was partially unbuttoned past her cleavage.
The Gone Girl actress slicked her dark brunette locks back into a sleek ponytail, and freshened up her face with blush and little else.
While she glammed up the look with a few golden necklaces, Emily kept her footwear casual with pointed white sneakers.
Beautiful girl: The actress showed off her famous beauty with minimal makeup
Her musician boyfriend was stylishly outfitted in a wide-brim brown hat, patterned sweater, and beige slacks.
The outing comes eight months after sources confirmed to Us Weekly that Emily and Jeff were seeing each other.
Emily was last romantically linked to former boyfriend Andrew Dryden, and Page Six reported last year that the pair had called it quits.
In the loop: Jeff zipped through his phone while Emily trailed close behind him
Meanwhile, Emily's professional life continues to soar with a role in the upcoming film We Are Your Friends, which focuses on an up-and-coming DJ's early start in the music world.
A trailer for the film was recently released, and Emily can be seen dancing in a string of skimpy outfits while piquing Zac Efron's romantic interest.
In an interview with Editorialist, the movie's director Max Joseph insisted Emily was more than just a pretty face, and gushed about her in-depth approach to acting.
Super stylish: Emily let her long legs shine in her jumper, which was teamed with a hip pair of white shoes
'At first you underestimate Emily as just another beautiful girl...But give her a second to speak and immediately you find yourself leaning in as she quickly subverts your expectations and transforms into a powerful force who you can't look away from,' he told the publication.
'I could see that she was extremely poised, oddly calm and quietly very confident - the kind of self-assuredness that can take over a room. And when she looked you dead in the eye it was unnerving.' he added.
Before We Are Your Friends is released on August 28, Emily can be seen in the Entourage movie, which hits cinemas on June 19.
In tune: Ratajkowski shared a passionate kiss with her co-star Zac Efron in We Are Your Friends
comnum(0) tbcount(0) tbcount(583)
CATEGORIES:
Fashion
Ali Michael stars in How to Spend It Magazine
Model Ali Michael stars in an enchanting spread for the latest issue ofHow to Spend It Magazine from the Financial Times. Photographed by Andrew Yee (Atelier Management), the brunette stunner enters the forest in floral embroidered gowns and dresses from fashion's top brands. With a moody backdrop full of trees and vines, Ali stuns in looks styled by Damian Foxe. Whether wearing a Gucci gown decorated with feathers and sequins or a Elie Saab gown of lace and macrame, Ali shines in each image.
Photographed by Andrew Yee, the model poses in enchanting gowns for the fashion editorial
Posing in a tree, Ali Michael models Giamba silk organza and lace dress
Looking ethereal, the model poses in a Gucci embroidered dress with feathers
Going to the dark side, Ali Michael models Giambattista Valli silk georgette and tulle dress
Flaunting some leg, Ali Michael wears Antonio Marras silk and lace dress with floral embroidery
Blooming like a rose, Ali Michael poses in Gucci dress
Covering up, the model poses in an Erdem cape and dress with floral print
Taking a seat, Ali Michael stuns in Elie Saab lace and macrame gown
Posing barefoot, Ali Michael wears Etro silk and lace dress
comnum(0) tbcount(0) tbcount(538)
CATEGORIES:
Fashion
Is she or isn't she engaged? That was the question that must have reverberated around the room at tonight's UNICEF Snowflake Ball in New York, when Katy Perry arrived with her beau, Orlando Bloom. The pop star glided across the red carpet in a Marchesa dress that was totally bridal-worthy, and yet the gigantic yellow and white diamond ring she was seen wearing yesterday evening was nowhere to be found.
So how exactly did she choose to accessorize the look? L'Dezen rose gold floral drop earrings were involved, lending a Botticelli-like effect to Perry's look, while an iridescent mother-of-pearl Edie Parker clutch provided a vintage vibe. Perhaps Perry is testing out a few glamorous new ideas before she gives the official reveal? In any case, we'll be following her every move alongside her fans, until she does.
comnum(0) tbcount(0) tbcount(624)
CATEGORIES:
Fashion
Before the Victoria's Secret Fashion Show became a bastion of glossy waves, A-list musical acts, and light-up lingerie, it was just that: a fashion show. At its inception, the event was less about sparkly eyeshadow or self-tanner. Models did their own makeup backstage, and — believe it or not — the fabled angel wings did not yet exist.
Supermodels like Naomi Campbell, Helena Christensen, and Claudia Schiffer walked the runway in simple underthings and heels — no props, no confetti, and no body bronzer. Some of them even wore bobs and ponytails instead of the signature waves that came to define the brand. Over time, the show evolved to represent a specific, narrow beauty ideal — one that is actually, thankfully, beginning to shift this year.

We decided to take a look back at the biggest beauty moments of the show over the past few decades to see just how much it's changed. From Tyra Banks to Maria Borges, each model has played a part in making every event more memorable than the last. Click through the slides ahead, then set your DVR for December 5 to see how this year's show stacks up.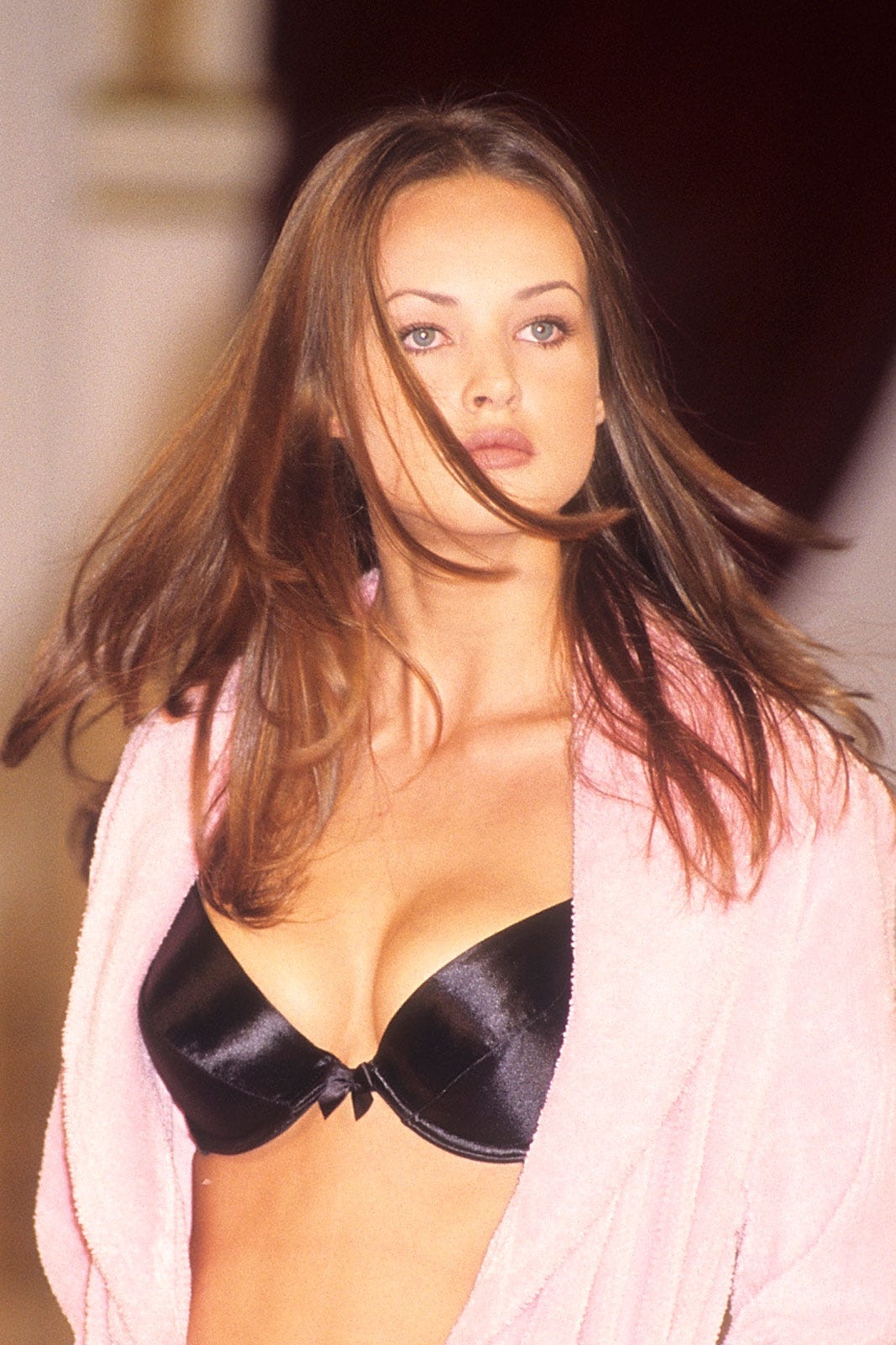 1995
The first Victoria's Secret Fashion Show, held at The Plaza Hotel in New York, featured models with thin brows and earth-toned makeup. It doesn't get more '90s than that.
1996
An up-and-coming Tyra Banks kept the '90s makeup trends alive, wearing brown, glossy lips and contoured cheeks. A Barbie ponytail completes the look.
1997
That's right, you're looking at a bob on the VS runway. Before long, beachy waves became the show's signature hair, stylists used oversized rollers to give models like Rebecca Romijn bouncy, voluminous curls on their own natural hair.
1998
Naomi Campbell walked the runway with long, stick-straight hair and kohl-rimmed eyes.
1998
Flushed cheeks, berry lips, blunt fringe, and a lob? Yes, this is actual footage from a Victoria's Secret (and not Marc Jacobs) show — and we are here for it.
1999
And then, there were wings! In addition to more elaborate styling, models like Carmen Kass rocked flushed cheeks in this fairy-themed presentation.
1999
Believe it or not, bleached brows used to grace the VS runway. And Kirsty Hume's look extra ethereal paired with long, straight locks and rosy cheeks.
2000
In the early 2000s, straight hair ruled the VS runway, seen here on Molly Sims.
2000
Stephanie Seymour paired her auburn hair (including sexy side-bangs) with peach lips, cheeks, and lids.
2001
Straight hair continues to reign, and we see the introduction of smoky, bedroom eyes on models like Adriana Lima.
2001
Gisele Bündchen's hair was as straight and her cheekbones were sharp, thanks to a flat iron and strategic contouring.
2002
Tyra Banks served up some major smize with smoky eyes and Bardot-inspired hair — foreshadowing the wavy-hair decade to follow.
2003
Campbell gave a nod — and a wink— to '90s glam with brown lips and lids. And check it out: another ponytail. (This time, with Swarovski crystals.)
2003
Heidi Klum's bedhead curls and glowy skin (enhanced with highlighter) were swiped straight from the era's J.Lo videos.
2004
Our obsession with 2000s gloss will be forever immortalized in this photograph.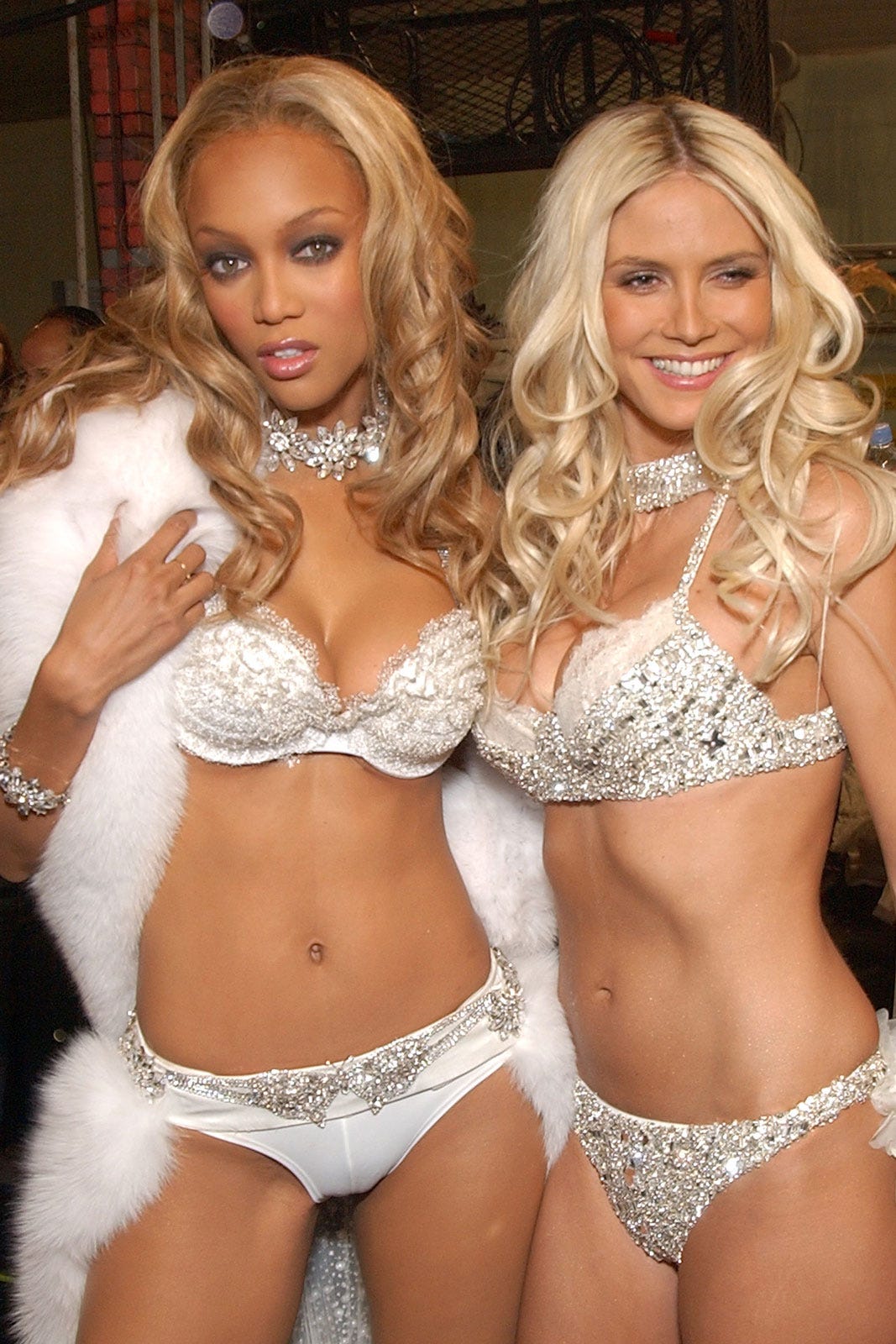 2004
The nude lips, smoky eyes, and glowy skin on VS vets Banks and Klum remained beauty inspo for years to come.
2005
Exactly how much self-tanner went into achieving this golden-goddess look? We may never know, but paired with loose waves and baby highlights, it became the template for VS models for years to come.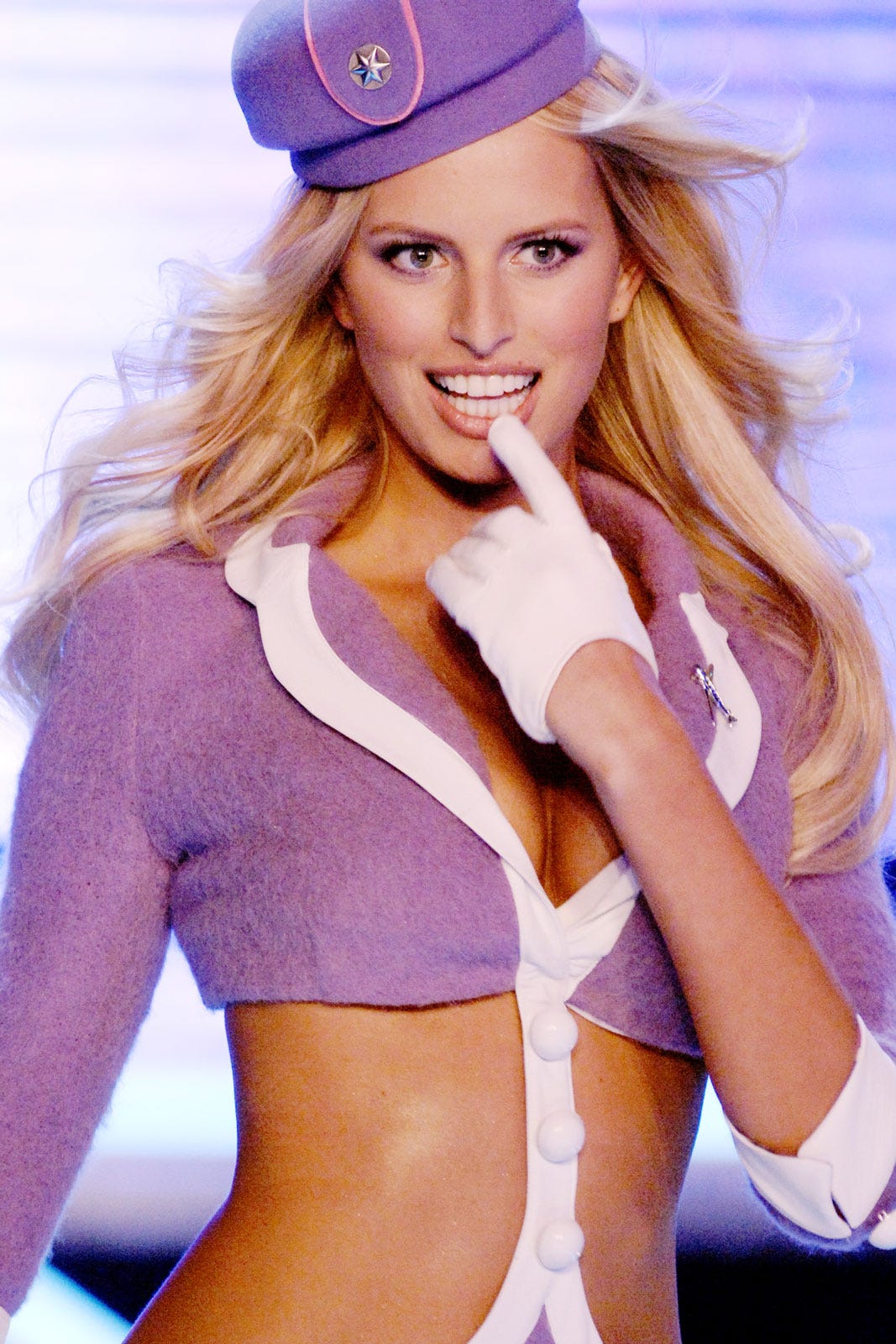 2006
Karolína Kurková brings the cat-eye to the runway for a fresh look.
2006
Ajuma Nasenyana's buzzed hair and showstopping highlighter were a beautiful departure from the VS blueprint.
2007
Angela Lindvall rocked bouncy '80s hair with minimal makeup in this 2007 look.
2007
The nude lips Jessica Stam wore could have been from any era, but the highlight on the inner corners of her eyes was an emblem of the time.
2008
Models who walked the 2008 show, including Doutzen Kroes, were futuristically feminine, with tumbling waves and high-strobe makeup.
2009
Miranda Kerr cemented her Angel status with soft makeup and brushed-out waves.
2010
Behati Prinsloo fully embraces 2010 with white inner-rimmed eyes and beyond-glossy pink lips.
2010
Bookmarking the peach hue on Chanel Iman's cheeks as the perfect blush color to try this weekend.
2011
Lily Aldridge took bronzed skin to the next level in this look.
2012
Between the contoured cheekbones and rusty smoky eyes, we can't stop staring at this picture of Karlie Kloss.
2012
Liu Wen's look — complete with elaborate body art and hair jewelry — turned heads.
2013
Jessica Hart's baked makeup became a VS (andInstagram) essential in the years to follow.
2014
Jourdan Dunn's choppy, textured lob is the stuff of Pinterest dreams. (And we love a departure from the traditional long waves.)
2014
Soft, smoky eyes paired with nude lips: another classic look that never feels dated.
2015
Gigi Hadid's barely-there makeup and windblown hair made her look like an earthy goddess.
2015
The K-family was certainly proud: Kendall Jenner wore her brows bold and cheeks contoured for last year's show.
2015
Maria Borges made history in 2015 as the first woman to wear her natural Afro on the VS runway. This year, the show promises to embrace more natural hair textures — including curls, tight crops, bobs, and lobs. A refreshing step in the right direction, if you ask us.
Tags: Secret Victoria's
comnum(0) tbcount(0) tbcount(559)
CATEGORIES:
Fashion
By now you've probably heard the news that Bella Hadid walked in her first-everVictoria's Secret Fashion Show today. With all the hype surrounding the show, it's safe to say we got our hopes up for her big moment in the spotlight. Now thatthe show has finally wrapped in Paris, we're glad to report she definitely didn't disappoint.
Didn't score a ticket to the highly anticipated event? Don't fret: Her entire run was well documented, from candid moments boarding the private plane to her runway looks. Photographers snapped away while Bella arrived at the venue, got her makeup done, and posed with sister Gigi, who returned to the show for her second consecutive year. To cap it all off, she walked down the runway in two amazing looks featuring feathers, beading, statement sleeves, and more.
Scroll down to go behind the scenes at Bella Hadid's very first Victoria's Secret Fashion Show!
Categories

New Posts

Hot Posts

Tags